Happy Friday!
Time for some letters!
——————————————–
Dear New House in Georgia,
I till really love you but you are a beast to clean.  And I'm really sorry that I haven't finished unpacking and made you beautiful.  I will soon.  Maybe.  Hopefully.
Love you,
Cass
——————————————–
Dear Christmas shopping,
I am SOOO glad you are done.  Holy geez I feel like I have been shopping non stop for months!  Ugh.  Please don't come around for a while, nnkay?
Burnt out on shopping,
Me
——————————————–
Dear Exhaustion,
GOOOOO AWAAAAAAAAAY!
Kapeesh?
Cass
——————————————–
Dear Monk,
You are really starting to freak me out with your jealous towards the dogs.  They love you and you are being so… "little boy" to them all the time.  Here are a few words to live by:
They do not want to play baseball with you and they especially don't want to be the 'ball' in the scenario.  So stop.
They do not like it when you lay on top of them to cuddle, thus squishing them so they cannot move and then laughing the entire time.
They really do not like it when you chase them around the house screaming at the top of your lungs "AAAHHHH!!!"  Not cool.
They do not like it when you throw objects at their heads.  This includes but is not limited to: toy cars, balls, food, shoes, sippy cups, clothes or pillows.
Saying "Jazz is gonna bite me!" while squeezing her neck with your tiny death grip, all the while knowing she hates it, does not make the squeezing ok.
Not wanting to have anything to do with me until one or both of the girls are sitting on my lap and then coming cover an JUMPING on top of me and them is totally not cool.  I can see through your tricks little man.
I love you but don't make me choose between you and the girls. 
Love,
Mommy
——————————————–
Dear Baby in da Belly,
Today we get to see you on ultrasound again and the doctors will tell us for sure what you are!  They told us at 12 weeks that you were a boy but we have since learned that they were most likely off their rocker.  So we shall see.  I can't wait to name you.  Only 22 weeks until your due date.  Yay!
I love you,
Mommy
——————————————–
Dear Readers,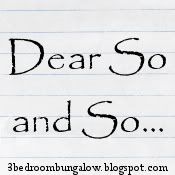 To participate in Dear So and So just click here to go to Kat's Blog
and get the button for your page.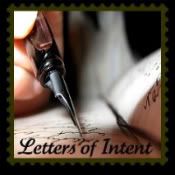 To participate in Letters of Intent,
click here to visit Julie, over at Foursons and grab one of those buttons too!
Hope you have a good weekend and next week!