If you want to play along with Random Tuesday Thoughts, go here to get the widget and add your name to Mr. Linky.
This week is just going to swallow me up whole!
Yesterday I FINALLY went back to the gym.  It's only been a month few days.  It felt fantastic to go back.  I took the super awesome Body Jam.  You may remember reading about that here.  If not, I highly suggest you check it out.  You will laugh your ass off at my expense.  Good times.
I have 80 some comments on my blog that I haven't responded to.  Not to mention about 7 BILLION blog I haven't read because I am so far behind.
We finally got Monk's Rain Gutter Bookshelves up!!
I saw this idea on Raising Olives Blog for Rain Gutter Bookshelves and I couldn't wait to do it.  I think they came out soooo well!!!
Now I am going to get a white shelf and hang it along the top.  That's where I will put all of his fragile stuff.  Stuff I don't want him to touch until he is older.
One last thing…
Mothers Day, Tank let me sleep in and took Monk outside to play.  When I got up and went outside in my muu muu to visit them, Tank said, "Look! Monkey drew this picture for you!"
My response?
"Oh Monkey! What a beautiful drawing!  I love how your HUGE man, with pecks, is flying a pretty pink kite! Very good drawing Monkey!"
Uh huh.
So I sent these pictures to my mom to show her the shelves and the picture that Tank Monkey drew and she replied with this:
Cass, his room looks so awesome.  As for Tanks art work – I didn't realize what an artist he was.  But………………………I think he should keep his day job.
LOL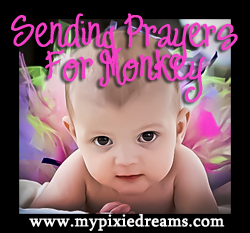 Stay tuned tomorrow for the Mission for Monkey drive!  Make sure to bookmark Ian and check in with him tomorrow.  If you have not taken the Monkey button for your blog yet, please grab it in my sidebar.  If you have, make sure you are on the list of Monkey Linkups showing your support.  This could be any one of our kids.  Think of the support you would want and need.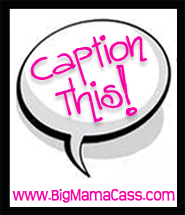 Don't forget that Caption This! is tomorrow as well! Have your photos ready!!
Have a good Tuesday luvahs!