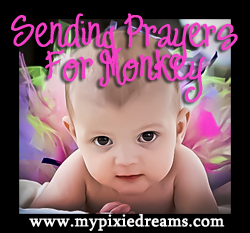 I have a friend.  She is an amazing person and mother.  I have only been able to meet her through the interwebs, but I must say, I still call her my friend.
She has three gorgeous daughters.  Her youngest, who she also calls Monkey, has been given a devastating diagnosis yesterday.  She has ganglioneuroblastoma.  Ganglioneuroblastoma is a form of cancer.  She is 16 months old today.  Just digest that for a moment.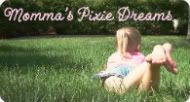 When I read Michelle's post The Stuff Nightmares Are Made of today, I wept for her family.  Please go to her page and send your love and support to Michelle and her family.  And most of all to her little Monkey.  Please spread the word.
Send all the positive vibes, prayers, love, best wishes and hugs you can possible send.  Her family needs it now.
I have made this button to show support and I hope you will wear it on your blogs for Michelle and spread the word.
Michelle, I am sending all my positive energy your way.  I send love and wishes.  Hugs and kisses.  And as many prayers as I can.  Be strong for your little Monkey.  She will conquer this.
Before you leave, please grab the button in the sidebar.  Spread the word.